"When you maybe don't have that fight in you, they fight for you", Eric Lamaze wins RBC Canadian Grandprix at Spruce Meadows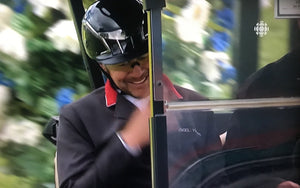 We witnessed a moment in history yesterday, and while the Show Jumping was world class, the most memorable and moving moment of the day came during a golf cart ride to the Winners circle.
Yesterday seemed like just another typical June Saturday in the horse world, with horse shows taking place across the county. With one part of the Foothills team off to Angelstone, and the other participating in the local NEC Developmental Series back in Sudbury, it was late in the evening by the time many of us were able to watch the Grandprix from Spruce Meadows.
For so many of us, Spruce Meadows is a magical place, and yesterday, Eric delivered a performance that we will remember forever.
Just a month after breaking his silence about his recent health struggles, Eric Lamaze and Chacco Kid won the  RBC Grandprix of Canada, edging out his good friend Steve Guerdat by a mere 0.71 of a second.
This was Eric's third time winning this event, having won twice before with his legendary stallion and Olympic Champion, Hickstead.
The whole event was an incredible show, with six riders making it to the Jump Off including Canadian, Nikki Walker, three Irish riders, and three Olympic Champions, Beezie Madden, Steve Guerdat and Eric.
If you made it to the very end, then you witnessed what might become one of the most emotional moments in Canadian Show Jumping history, Eric's conversation in the golf cart with Ian Allison crediting Chacco Kid:  
"It just shows you what a good horse can do for you. How hard they fight when you maybe don't have that fight in you, they fight for you. And that horse did that for me today"
We want to offer our Congratulations to Eric, and our sincere thanks for delivering a performance that we will remember for the rest of our lives.