Foothills Rider Profile: Averey May Pritchard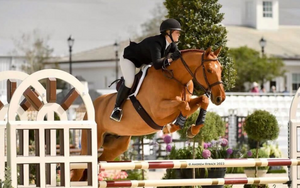 As she prepares to compete in the Royal Winter Fair in Toronto this weekend, Averey May Pritchard is thanking her lucky horseshoes that the show season turned out much better for her than it began.
"I wasn't able to go to a handful of shows due to catching Covid and then having a couple of school commitments, so I was four shows behind everyone else at the start of the season," she says. "Because I was chasing points to qualify, it was stressful knowing that everyone had four times the points as me at the start, but it just goes to show that the season is long and anything can happen."
This season, Averey has been riding with three horses that will be competing with her at the Royal – Nykaenen (Nyke) in the Junior Hunters and Jump Canada Medal ("he might seem like a grump but secretly, he loves the attention"); Cumano (Cumo) in the 1.20 Junior Jumpers and the CET Medal ("a very quirky and loving boy"); and finally, Rebel Just for Kicks (Rebel) in the 1.30 Junior/Amateur Jumpers ("a crazy girl with a heart of gold").
Working with a hot mare like Rebel taught Averey that she had a lot to learn about patience and trusting the process, but says it also helped her to stop and appreciate those little moments and the victories along the way.
When asked what advice she would give to riders who have their eye on qualifying for the Royal next year, she says it's important to remember that the season is longer than you think.
"If you have a bad show, move on and focus on the next one because there are still so many shows ahead to collect points – and anything can change from the beginning of the season to the end," Averey says. "Also remember that the goal is always to have fun. Don't stress so much about the Royal that you forget to have a good time. Of course, the Royal is an amazing show and a huge accomplishment, but it is just another horse show. You always have time."
What is your first memory of horses and riding?
I used to watch my sister and mom ride their horses. At that point, I was only doing lead line but being at the barn and watching my family ride, I knew that it was something I wanted to do as well. I started riding at a very young age. When I was about 6 years old I got my first pony who I started doing lead line on. That's when I started to really fell in love with the sport.
What advice would you give to new riders?
Riding is tricky. Sometimes the results, winning, and being "perfect" can get the best of us. Never forget why you started in the first place and never forget your love for the animals and your partners.
What do you think horses have taught you?
Horses have a mind of their own; they are not a stick you hold in your hand, or a ball you kick with your foot. They do so much for us and truly give us their hearts. They don't know if you win or lose — all they know is that they tried for you. It is also okay if they have off-days because they are animals and they don't need to perform every time. It is also important to know that every horse is different, so you must learn to ride the horse how it wants to be ridden, not how you want to ride the horse.
If you were on a deserted island with only one piece of tack or equipment, what would it be?
I would probably want a bridle because if I could find a wild horse to ride, the bridle would be the most crucial piece of tack for catching and guiding it.
Finally, is there anybody special you wish to thank?
So many people have been an important part of my journey this year. I would like to thank everyone at Foothills Farm, my barn family, and especially my coaches Cathy Inch and Becky DeHaas, who have been a huge part of my success this season and I'm grateful for all they have taught me in riding and in life. I would also like to thank my parents, grandparents, family and friends for all their support. It takes a village!