Information For Competitors: Rick Smith Memorial Horse Show, July 22 - 24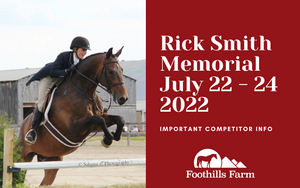 Foothills Farm would like to invite you to join them for the 2022 Rick Smith Memorial Horse show. This is a wonderful opportunity for the Sudbury community to experience the exciting sport of show jumping at a beautiful venue.

Everyone is welcome to come and spend a day in the country at Foothills Farm. There is no charge for admission or parking. Bring the children, and a couple of blankets or lawn chairs, sit back and watch some of Ontario's rising equestrian stars in exciting competition!

Important Information for Competitors:
Entries must be submitted by Saturday, July 16th.   A copy of the Horse Show Program and the Entry Form can be found below.
 
New Division: Open X-Rail Division for Green Ponies & Horses
There was a request for a lower level open Hunter class for green ponies and horses. The new division has been added to our schedule and will run together with the regular Cross Rail division on Sunday morning.  It is open to all riders on green horses or ponies, and will be judged separately from the regular Cross Rail Division. Unlike the traditional cross rail division, this new class will NOT be eligible for the Trillium Championships. 
It is listed at the bottom of the program, but it takes place first thing Sunday morning.