Giving Thanks & Last Call for Fall Colours!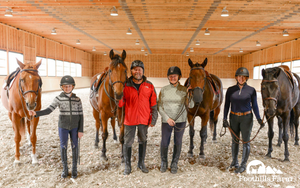 With the Thanksgiving weekend upon us, there is no better time for us to express our sincere gratitude to the Foothills Farm family of riders, boarders, staff, coaches and supporters! 
This past week, the new Foothills Farm arena officially opened for business with our riders and their horses experiencing their first rides in what will be a state of the art facility. A lot of work remains to be done, but we're happy to say we're on the home stretch!
2020 has been quite the year! With so many activities and events put on hold, it was an opportunity for many of us to connect with our horses and triple-down on our training.
We would like to express our gratitude to our amazing head coach, Cathy Inch, for pouring her heart into training horses and riders throughout this difficult year. Without the regular show season, we had more access to training than ever before and the results are showing in the quality of our riders and horses.
Despite the Trillium circuit being put on hold, the Foothills team was able to attend a limited number of shows at the Caledon Equestrian Park. You can read all the highlights in a recent article by Randy Pascal for SudburySports.com
It all starts at the grassroots! We want to thank our instructors: Kari, Sarah, Isabelle, Maya and Miranda. They have each done an amazing job introducing kids and new riders to this amazing sport and fostering a life-long passion for horses. We invite everyone to help introduce new riders to this rewarding sport, you can find information about riding lessons here. 
Don't forget the barn team! Led by the "turnout-matchmaking-queen", Kristy, the foothills team has continued to do a wonderful job caring for our horses. Thank you Kristy, Denise, Jan and Emily.
Last but not least, we want to thank our network of supporters and clients for being there through thick and thin while we rebuilt Foothills Farm to her former glory.
This Thanksgiving will look a lot different than those of the past. Health officials are asking each of us to stay close to home and limit the size of social gatherings. We encourage everyone to do their part to help stop the spread of Covid-19 in our community.
What will you be doing this Thanksgiving? Why not take a drive and enjoy the beautiful scenery around the farm? The hacking trails and forest around the farm are ablaze with fall colours, and this is likely the last weekend to enjoy this beautiful show.  Take a walk up the road, through the field, or head up to the "look-out", maybe even take some family photos!
Happy Thanksgiving,
Dave, Laurel & Family

ps. Thank you to Sabrina Day Photography for this beautiful photo in the new arena. You can see her work and book a photoshoot on her facebook page.