Fall 2018 Newsletter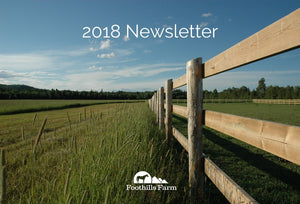 Dear Boarders and Students:
Communication is the key to keeping us united and informed on upcoming events and the achievements of the entire Foothills Team. This Newsletter is packed with important information so please read and enjoy.
Please print the schedule of upcoming events and post on your fridge. That's where I frequent the most!!!
Summer and Fall 2018 Recap
A few very important fall events have already come and gone. We had a very successful Marni Von Schalburg Clinic with great participation. Marni is very detaield and has a great feel for problem solving. We are lucky to have her here in the north as she is highly skilled and very current in her coaching knowledge. She sits on the Olympic selection committee and frequents with the bet in the world.
The Trillium circuit banquet has already come and gone, as well as the year-end meeting. Congratulations to all of the award winners, our region is small but our results are great and we should be very proud of our accomplishments, not only on our own circuit but abroad. Super results at the Trillium Championships this year. Although many of us do not have the budget to be fabulously mounted, our riders are very current and polished. The horses are ready, well prepared, and beautifully turned out. You make Foothills Farm proud. Because we show in Florida and on the A circuit in Southern Ontario, we continue to upgrade our skills and bring it home to the North. We have a great team!
"A" Circuit results were also very rewarding. Foothills Farm has a small group of people from Southern Ontario that show with us and together we are known as the Footerra Hills Family. We're very happy to have this group as part of our team and we are lucky to have this extension of our team in Southern Ontario. A big thank you to Miranda Travers-Cavill!  Some horses we have bred, some Monterra Farms has bred and some we have bought or leased abroad. They are a lovely group of horses representing Foothills Farm at the horse shows.  It is difficult to mention all of the horses and riders, but some great results were had by the more consistent riders. 
Julia Arnold and Mackays Wine and Dine (Jacob), were awesome in the Large Pony Hunter Division, narrowly missing qualifying for the Royal Winter Fair as she had to miss a few shows to participate in the Pony Finals in Kentucky. Not really a sacrifice as the experience was unbelievable for her and she finished 39th overall out of 149 ponies.  Great results for a first year partnership on her pony Jacob. She also finished 
She also finished third overall in the OHJA standings, in the large Pony Medal. Shows that our equitation performance is very strong in the north. Congratulations Julia and Jacob. Paige Leclerc on Que sera, (Lily), a Foothills Farm homebred, also had some great results showing in a very difficult division, the Adult Amateur 18 to 35 Hunter division. Lily was also amazing for Cathy in the Pre-Green Hunter division, winning some very good ribbons. She's finally growing up. Land of Elis (Elliot), a Monterra homebred owned by Rebecca Steen and ridden by Cathy, also had great results in the Baby Green division....love our babies. Konstanze II (Ruby), another Foothills home bred owned by Caroline Hawson, stepped up to the 1.10m division this year. Fast and careful, this mare has great potential as a jumper. Olivia Robichaud and Pandora stepped into the Jumper Rings this year and had great showings both in Florida and in Palgrave, bringing home some ribbons in the Low Children's Jumper division. Other Northern riders tested their skills at the "A" shows ...too many to mention, but some super results. Can't wait till next year as some of these riders were newly paired with their horses this year and will be even stronger next year.
The NEC Circuit was a going concern with a lot of participation from all three of the barns in our area that run the horse shows, as well as quite a few out-of-towners. The Foothills riders represented our barn very well, winning many ribbons and quite a few Division Champions and Reserve Champions. This circuit is a great way to start showing, test the waters and meet fellow horse people. The NEC banquet has come and gone as well. It was a great success.
Again, congrats to all. A very special award was given to Maya Naponse this year at the Trillium circuit championships. The Riley Dobson Memorial Award, is given to a rider showing great sportsmanship and horsemanship excellence. This is a very special honor because, not only does it attest to her great riding skills, but her dedication, determination and wonderful sportsmanship like attitude. Maya had a wonderful season this year on Mad About You, (Holly). Foothills Farm is honored to have Maya as a member of this barn. The Dobson's were so impressed with her they have continued to give her scholarships so that she can have an unlimited 2018 show experience on the northeast circuit.
What's New
And what's new?? Some new horse rider combinations in the barn this year. After a long hiatus, Leo Rene Cantin purchased Mr. Brown, now called Amigo and is back to pleasure riding again. Other new faces, Oliver, Adrianna Whynott's new mount, WKM Zane, Olivia Robichaud's new Young jumper. We also want to welcome Georgia Main and her horse Valley into the barn, hoping to see them compete with us this year . Maya Naponse is 1/2 leasing Bailey McPhaden's horse Fanny. Those 3 will make a team to reckon with! Claire LeClerc has a new young horse, Doug. We are going to see good things from those 2 this year, and Sabrina Day purchased Northern Legacy's young horse Flynn, he was here to finish up his breaking. We'll see those two in a few years. Going to make for an exciting season next year. Congrats guys. As usual, Dave is working hard to continue to improve the facility to keep our horses and riders in style. A special thank you goes out to Amber Stephen's, who has worked very hard on improving the Summer Barn tack room. And a Special thanks to Janet Bradley who worked very hard along with Amber to organize and renovate the tack room.
We are currently improving paddocks (with over 1,000 ft. of new fencing this fall), putting the bathroom in the viewing area, and constantly working on overall general maintenance. The horses all conspire to ensure there is never a shortage of work. And of course, the biggest endeavor, is the brand new well and water system that's providing a magnificent amount of water.... fantastic!! That opens the door for projects like the new bathroom, future automatic waterers in the Summer Barn, enough water to put the shower stall back into use, and no more water trucks at horse shows. We do ask that our boarders take pride in our facility. Please clean up the hay from your water bucket if you dump it outside in the yard, "sweep your aisleway" and keep your tack box and area as tidy as possible. Also take home any blankets you are not using, including fly sheets, turnout sheets and summer sheets this time of the year. We also want to keep the front of the summer barn clear of tack trunks after every horse show, so please plan to come and unpack your trunk and move it over to the equipment shed if it is not in use. And please respect our new Dog Owner's Policy. Dog owners are asked to pick up a couple of piles every time your dog visits the farm. We had a terrific turn out to help clean and organize the facility for the last clinic, great to see families out. We will schedule some more work bees and spring cleaning when the time comes. We will keep you posted. We are always in need of volunteers before various clinics shows etc., your help will help keep your barn beautiful and keep expenses down and that keeps us all happy.
Speaking of happy, we want to revitalize "Sudbury Young Riders" and bring back lectures and education sessions to help educate our riders in stable management skills. Some of the instructors are getting together and making a schedule for various lectures, which will include lunging, proper grooming and show turn out, tack cleaning, General first aid, bandaging and other such lectures that will help to improve horsemanship skills all the way around. Stand by for more information. We will plan monthly lectures. We are still in the process of confirming our lecturers and deciding on dates.
We want to welcome the newest addition to the Foothills staff. Paige Smith has passed the acid test with flying colours. She hit the ground running in mid-October and has been doing a great job. Paige rode and lessoned at Foothills when she was just a young teenager and has returned to help care for all our beloved horses. She is a hard-working horse lover and fits right in with the rest of the Foothills clan. Be sure to say hello and welcome her to the farm. Before signing off we would like to wish Ron Poirier (Squeaky) the best in his semi-retirement. He has been working at Foothills farm for well over 20 years and now at that golden age has chosen to semi-retire. He couldn't completely stay away so will be working 2 days a week at the barn to keep in touch with the Foothills Family. He just can't get enough of us!!! All the best to you Ron you've been a big part of Foothills for many years. The same can be said about Debbie Keleman. After several years of her semi retirement, Debbie is taking the winter off completely but will be back in the spring! Rest assured that Denise, Kristy, Paige, Emily, Hannah, Josh and Owen will continue to keep the place running smoothly.
Just a reminder about Christmas Day. The barn is closed to all vistors on December 25th. The doors must remain closed and all the lights off. There will be no traffic at all in the barns. We do this so the horses remain quiet and happy without their regular turnout. So, thinking that is about it for now. Please print the following fall and winter schedule and stick it on your fridge....or take a picture and save it to your phone. Remember that a program will come out with the lecture dates that we plan to do and will operate under the Sudbury Young Riders. We will also have a schedule coming out in the spring listing the dates of all of the clinics and horse shows so our riders can keep informed and one step ahead of the game. Let's keep up our enthusiasm and participate in as much as we can, it only makes us better!!!!
Best Wishes and Happy Riding The Foothills Team
(See Schedule next page)
So now, on to the remainder of the fall/winter schedule. Remember there will be another schedule coming out with lectures that will happen throughout the winter and into the spring. And then there will also be another newsletter that will come out in the spring with all of the NEC, Trillium and A show dates. Have a great fall and winter.
Foothills Farm Fall / Winter Schedule (November 2018 to February 2019)
Nov 2-11 the Royal winter Fair. Monterra Farms has a big gang participating there this year. Congratulations to Miranda on qualifying her derby horses and her amateur riders. The dates that they will be competing are as follows. Miranda will be riding Eldino and Porter in the Hunter Derby that goes the 4th and the 6th.
Miranda will also ride Eldino in the Combined Working Hunters which go the 5th and the 6th.Taylor Cromwell will ride Porter in the Amateur Owner Hunters which go 4th and 5th Joanna Fast will be riding Eldino in the Younger Adults Amateur Hunters which also go on the 4th and the 5th.
Grace Farley will be doing the Jr Meter 20 jumper classes on Wildcat November 8th and November 10th.
Come and cheer this gang on as they are part of the Footerra Hills' crew. We are very proud of these girls and their horses.
Dec1-2. Our very popular Yann Candele Clinic. We are very privileged to have Yann come to Northern Ontario and do such a great Clinic. He has been a member of our Pan American team, our World Equestrian Games team and our Olympic team. Yann gives a great Clinic.
Contact your riding instructor to see if this is right for you. Please contact Laurel Scott for more information and to register
Dec 15-16. John McPherson Dressage Clinic, again very popular. 3 people per group 1 hour groups. Contact Laurel Scott for more information
Dec 16. Our annual Foothills Farm Christmas party and sleigh ride. This is always a fun event. It starts at 1 p.m. with sleigh rides going from 2 till 4, a Kris Kringle and a potluck dinner starting around 4. Colette & Dan will be here with Bert & Ernie and their beautiful sleigh. Dave will have a bonfire going. Everyone is welcome, Foothills Riders, friends and families. Please bring your favorite potluck dish.
Dec 23rd- or 30th??? We would like to set a ticketed warm-up ring. We will start at 11 a.m. at a height of 2' 3", then move up to 2' 6", 2'9" and 3'. We would run that until 1 and then at 1:30 we would run one 2'9" to 3 ft jumper warm up. This is not a horse show it is just an opportunity to school your horse around a course with of course coaching. It will be canceled if the temperature is colder than -20, as that is not healthy for anybody. It would run at a cost of $30 per height, if you wanted to try a few heights you would have to pay for an extra round or try your hand at the hunter as well as the jumper. Talk to your instructor to see if this is right for you.
Jan 10- March 27th: Cathy, Footerra Hills and the Northern Legacy gang head to Florida. We are based out of Monterra South with Northern Legacy at their own Farm just down the road. We will be participating on the Hits Winter Florida circuit, as well as showing in Venice Florida mid January. Once again this year Footerra Hills will offer a weekly horse lease program. You can come for the week, lease a horse just for lessons or you can show. Whatever you would like to do. Don't want to rub it in but of course it is considerably warmer down there this time of the year thus the name "Hits", Horse Shows in the Sun!!!! We would like to know early if you are interested in this program, as we need to arrange the best horses we can. You can fb message or contact Cathy or Miranda directly to inquire about this program. A great way to kick off the 2019 show season or just get your horsey fix in the sun.
Feb 9th-10th....She's back!!!! Yup we will be hosting a Cathy Inch clinic. Home from Florida for this weekend, hot off the circuit, literally, she coming home to the cold to spread her wisdom for the weekend!!! Please Contact Laurel for more info and remember if you are not sure this is right for you, speak with your instructor and if Cathy's your instructor you'd bettertake it!!!
April or May will bring one or two more clinics with Hyde Moffat and/or Kim Kurten. Stay tuned for the next newsletter for dates.